You know when you think you have everything sorted and you are rolling with what you have going on like your long Victorias Secret esq hair full of extensions in a light brown caramel tone feeling 100 then you get a lob and dye it dark and you realise this is where you should really be at. Well I feel a make over happening over here in my tech world. Ever since I have had my business and basically a computer it has been the Apple variety and that includes my phone too. Earlier this year the gang at Samsung converted me at Fashion Week to the Galaxy edge. I used it for the runway and thought to myself it would be too hard with images and connecting to my computer and all the hesitations we all have when are set in our ways…. I never switched back.  This was the stepping stone to better tech and getting the most out of a system.
Google drive is the thing that makes you feel ok about the transition. Everything gets stored on there and you then take it from there onto the hard drive to save as your second copy so no matter what phone or computer you have you are able to access Google. These were my reservations as I am a photo taker I have thousands and thousands of images that I need to access and be saved and also be easy to access on my phone for Social media etc. Don't be scared. Its actually a much easier and higher image quality world over this side! Or stay on both sides but just don't discount other devices as we can all be friends.
So let me Introduce you to The Surface Pro 4 from Microsoft. She is a bit of a chameleon. Tablet one minute and laptop the next by attaching the savvy keyboard and kicking out her heels to stand. Running on the windows operating system so you will have some playing around to do if you are like me and coming from a Mac but I have to do that when I get a new eyeshadow palette or bronzer so don't freak out you just have to find your way. The funny thing with it is it's just how you expect a computer to run. I delete something and it actually deletes and doesn't hide in a folder somewhere to fill up my storage and I wonder what the hell is going on when It takes half an hour to load an attachment while I get hypnotised by the rainbow wheel of annoyance telling me its all ok.
My favourite feature so far is the pen. The touch screen of a tablet/phone and sitting pretty as a laptop makes life so easy to do the things you need too and then you add a smart pen and your world has changed. As a big Photoshop and creative suite user this feature is next level. Previously if I needed to have calligraphy text as an overlay on images or be used in logo's etc and how in mags you have the beautiful hand written text over editorials you would actually hand write or paint the text and scan it in and edit to turn into a PDF. Now I create straight to the document and the Paint application will blow you away. This applies also to signing documents as well. Open, sign and send. Its all a bit fancy isn't it?!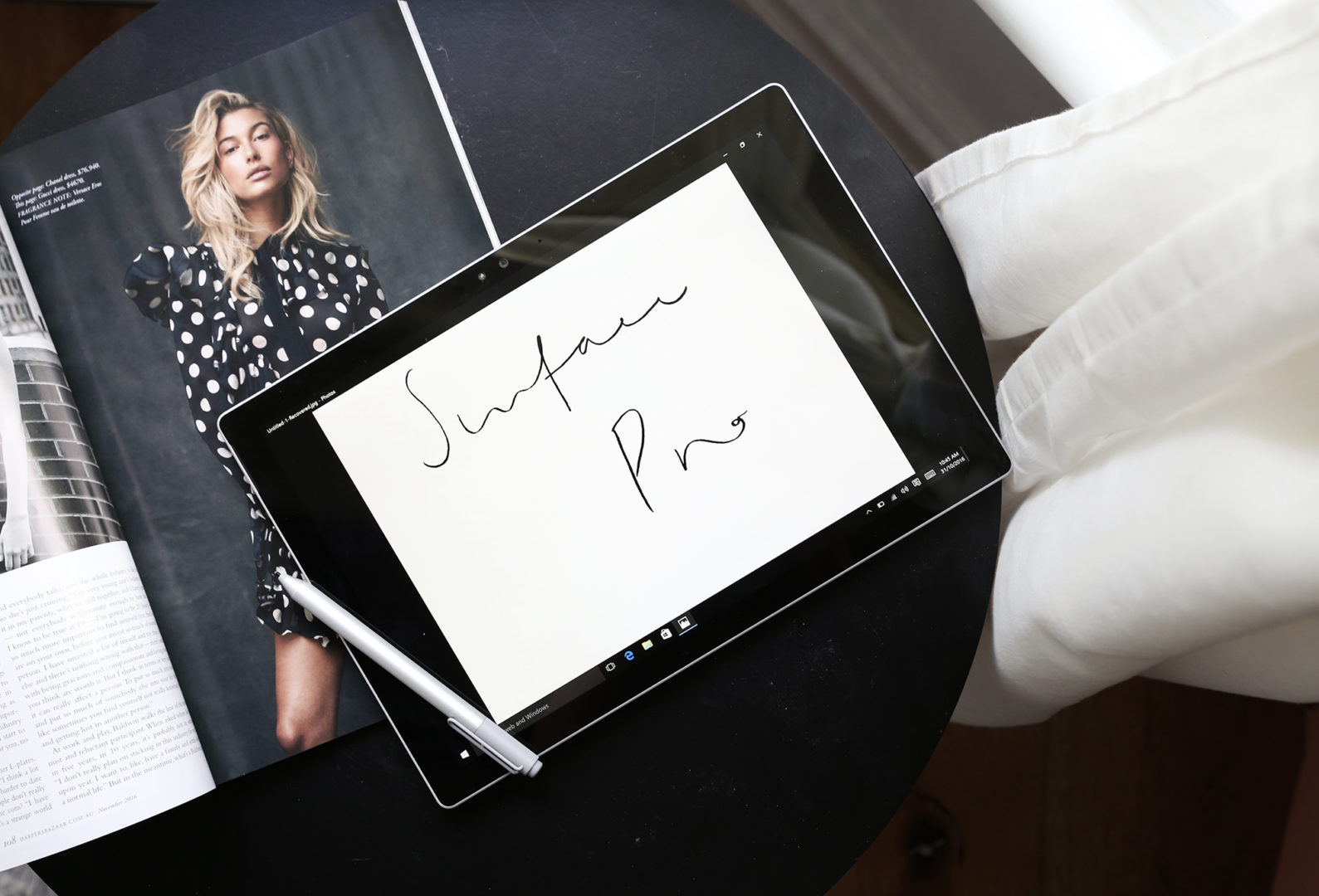 Microsoft Surface Pro 4 with signature Editition Type cover in Grey.
I am showing her off over on my Insta story tonight so you can see how she rolls and be really desperate to have her in your life.