[twocol_one]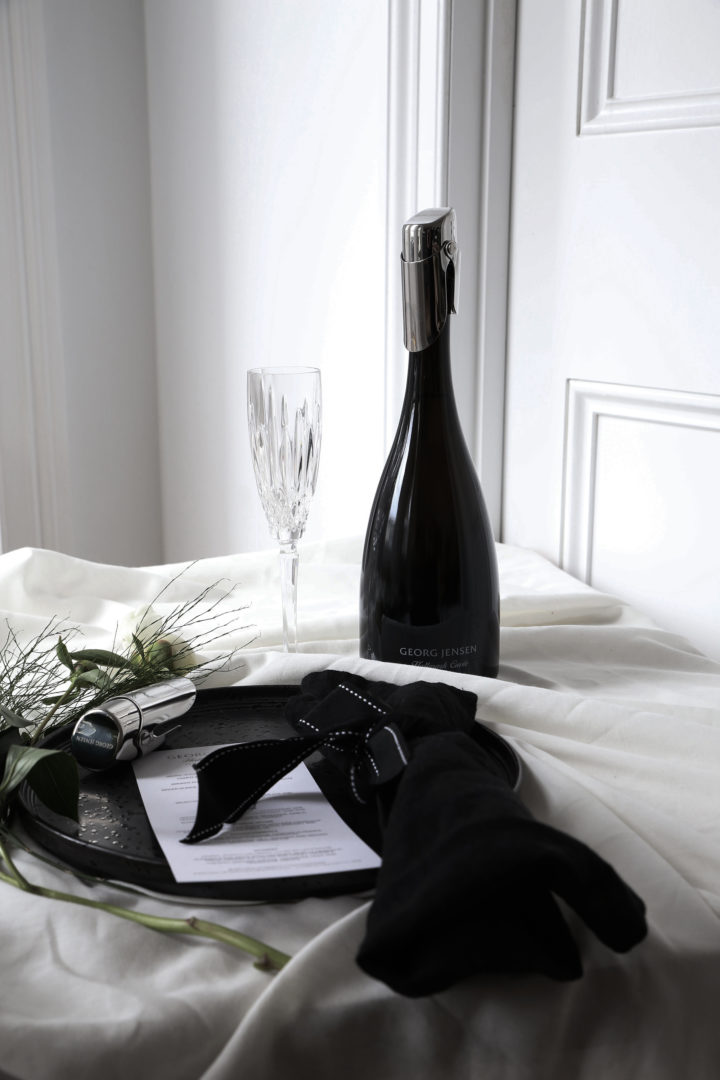 [/twocol_one] [twocol_one_last]Christmas gifting and table styling is on my mind but when its all over a well kept table and a girl that can gift well still remains. I was so excited to be introduced to this collaboration between the Renowned Danish design house Georg Jensen and Tasmanian winery Heemskerk to bring us style and sparkling wine to the table. The bottle stopper a perfect addition as a gift when bringing the bubbles to any of your end of year celebrations.
So what are my table must have moments? a linen table cloth is my starting point. I have both black and white of which both can work with the following. Black dishes have me at hello with either a design or just a beautiful stone or textured surface. Of course black or gold will top this all off and the choice of gold as an accent which goes with my home styling perfectly. The gift that keeps giving is my ribbons from the many Net-A-Porter boxes that come my way as gifts to myself and my loves. Finally just add greenery and if you can get them a peony or my always some gypsophila which I used this Christmas on my tree to replace tinsel.
A celebration and launch hosted by the fabulous Chyka Keebaugh had me my own engraved stopper and a great idea.
Get your Georg Jensen x Heemskerk at Dan Murphy's, Vintage Cellars and Select Fine Wine outlets.   [/twocol_one_last]  
[twocol_one][/twocol_one] [twocol_one_last]
[/twocol_one_last]