[twocol_one]Probably the most altered space in my house is the desk zone. Due to its creative influence and where I am working the most I update the images and move around objects all the time as the new ones arrive at my house. It serious therapy cleaning and revamping areas no matter what part of your house and I always find things I had forgotten about and saves me from buying something I didnt need. So the desk – I always have images from mags and editorials around and I also have a thing for typography. I think its clean and minimal but makes a statement. I don't really get motivated by inspirational quotes but more so the type they are written in. All about visuals. Always have been. The accounts I follow on Instagram would mostly be beautiful photos telling a story or someone that puts kick ass outfits together but the feed always tells a story and looks so beautiful that you don't want to stop scrolling.
The next must have are plants, plants and more plants. I know plants are baggage and a big responsibility but they make for great decor finishers. There is something about indoor plants and beinf diva's for me. The hanging ones don't grow fast enough to hang and then they die. I like to think I am a good baby mumma but plants and I don't seem to mesh….yet I keep committing, practice makes perfect right? Or If anyone wants to sell me or knows where I can get a developed and really well grown string of pearls or any hanging succulents send me a line!
[/twocol_one] [twocol_one_last]
My decorating style would best be described as fashion influenced in a muted color palette with a minimal and scandinavian flavour. I love using bags and boxes of past purchases instead of standard storage boxes and mags make the desk always look full and they are research material after all. Like anything in your business or life use and display what you love, what makes you feel something not just because you have copied it from someone else. I have mentioned before the use of 'content creating' when in fact they aren't creating anything but screen shotting and coping what they see. I guess it is the fashion industry in a way so 'inspired by' is a part of it but why not make a space thats about you and what you love. You want to look around your house and it reflect you and no where more so that a home office where your magic happens.
The last thing that you dont have much control over but if you can choose a spot to set up shop is the most light filled area you can. We have sun shining in Melbourne this weekend and when I was sorting and styling Milla's room and the house was full of light my mood changed. It makes for the best photos as well and you are doing the first thing a plant mumma needs to master is that her indoor divas like light ,but not too much and not direct sun streaming in on the glass as this burns their leaves. If you are an over committing type like me each one has their own Diva demands too so place them wisely.
[/twocol_one_last]
[twocol_one]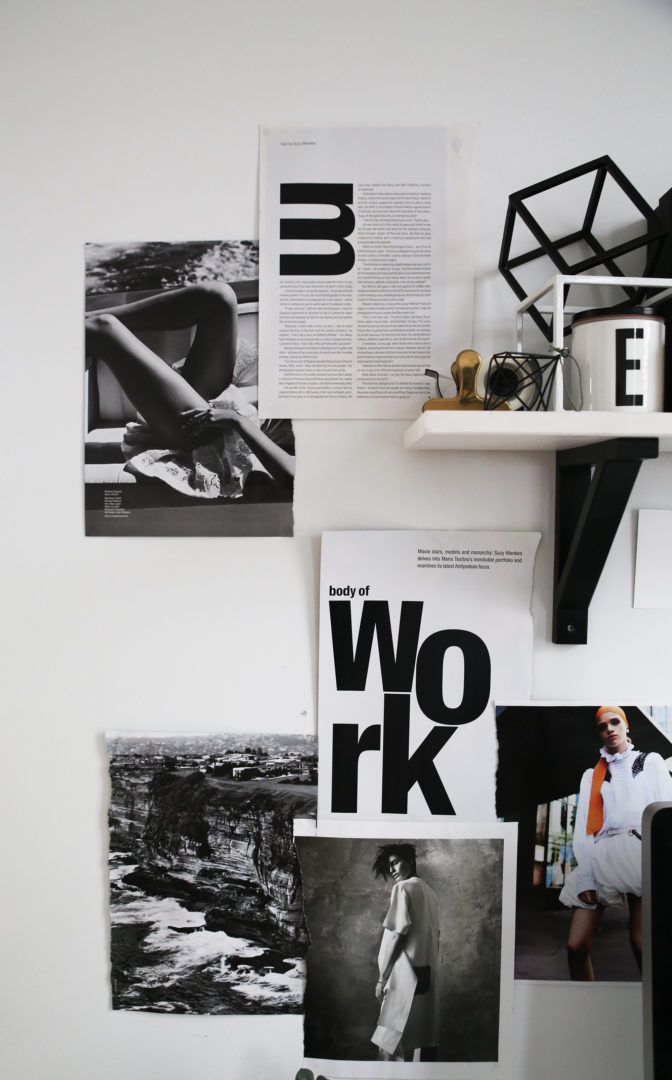 [threecol_one][/threecol_one] [threecol_two_last]
[/threecol_two_last]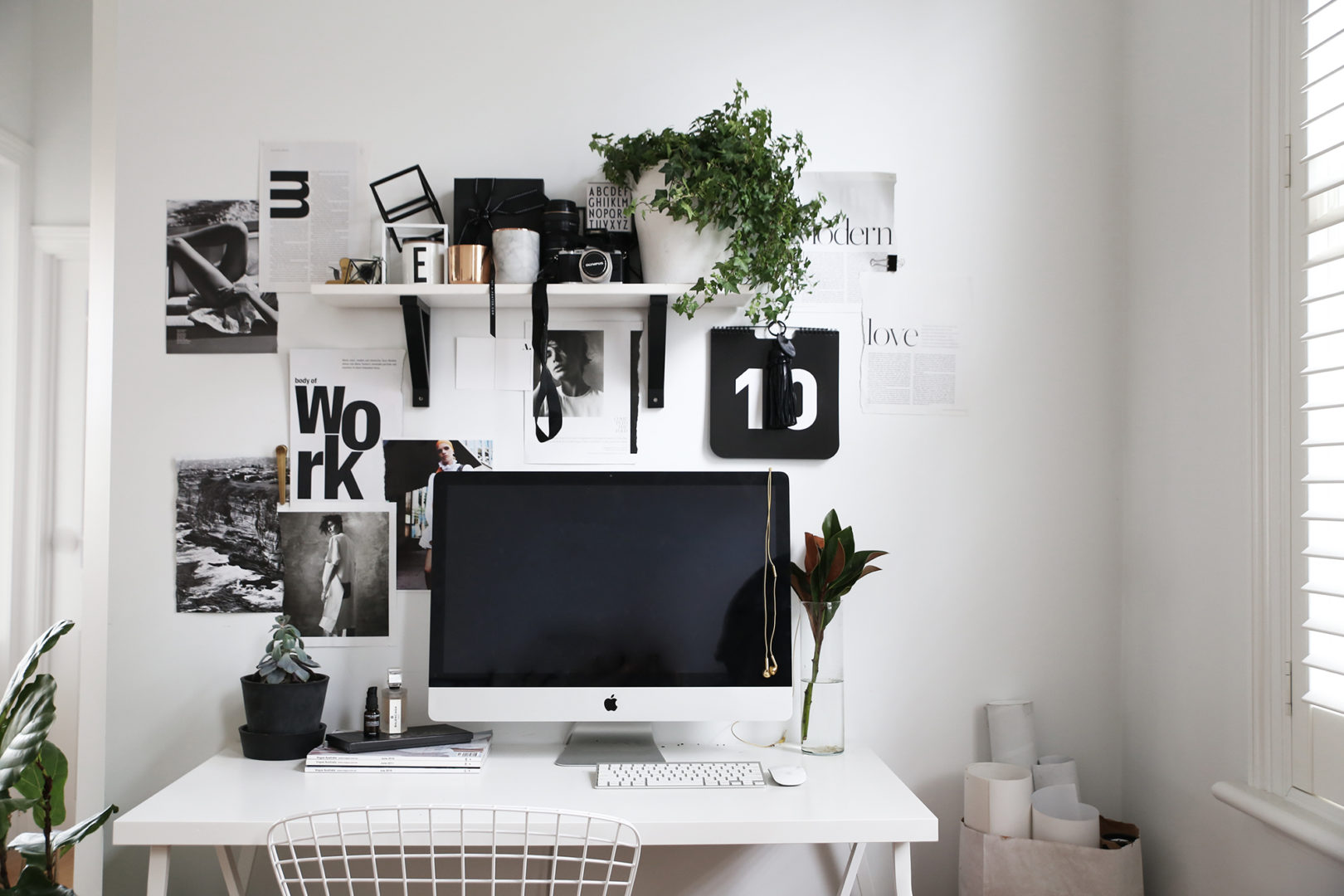 TIPS TO SHOP FOR DESK STUFF
You will need either magazines or print images from the net etc. I have lots of doubles of magazines (for an unknown, money wasting reason) so tearing pages from them is ok. I keep my mags in really good condition as they are as good as books to me. You can always photocopy mags as well.
I have a pin/mood board as well as using just blue tac straight to the wall (argh!). The beauty of the board is you can mover her around which ill share with you some options soon.
Scandi esq stores that will have all the clips, boxes and stuff you need to make it your own – Design stuff, Norsu, Scandinavian Design Centre, Country Road, The Minimalist and of course IKEA.
Cool chairs – Matt Blatt, West Elm
Desks – I have one in the box ready to roll out but wasnt in the mood before this went up. See already making another change. Its this one at IKEA and most of my desks before this have been the tops and leg mix and match from here to change the space up a bit and not spend a bomb on new desks every time. I do lust after a glass top desk sometime soon.