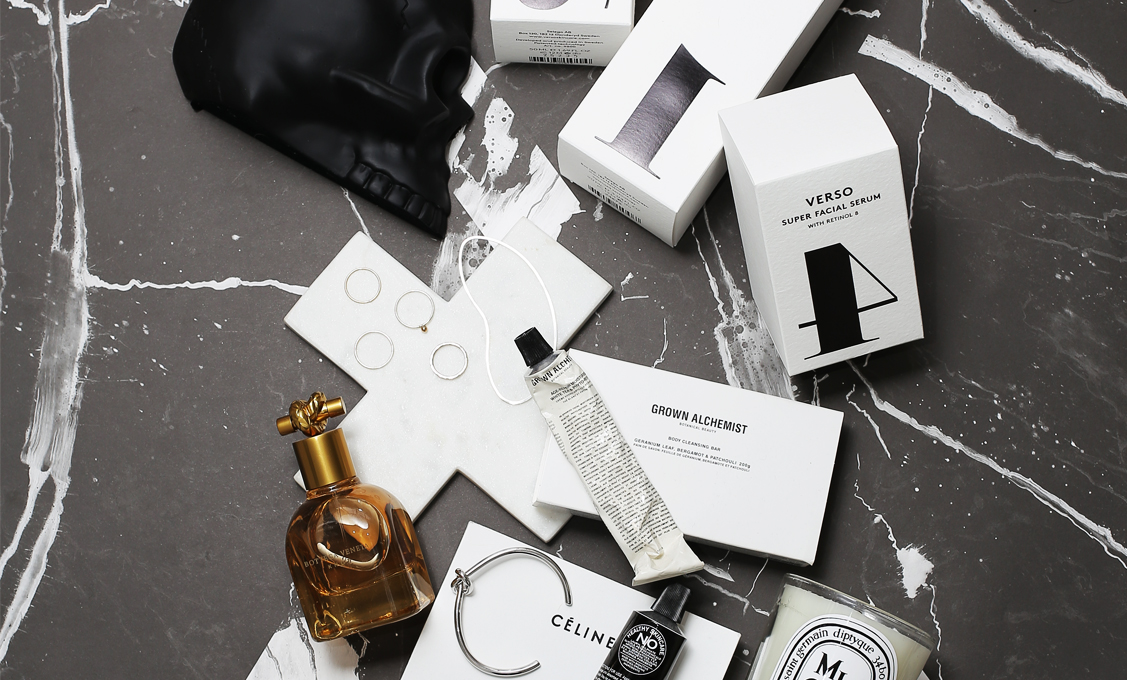 [twocol_one]A few of my favourite things that I must share in the lead up to give gifts or receive them (if we are lucky) but not reserved just for Christmas but for any occasion you feel the need to give. I don't need an excuse.
Lets start with the beauty cabinet which never seems full which is good for gift giving. Apart form the completely perfect packaging Verso Skincare is the bomb. Giving skin care is sometimes hard with skin types and issues and personal preference but its always nice to change things up from a recommendation. Can opt for travel or sample sized gifts and a voucher and they will be back to get the full sized kit.
More Mecca loves – Holiday Collection Lips de luscious | KIT Pomegranate scrub | BOBBI BROWN Brow Kit | MECCA Loved and adored pack. Again if not for the minimal and perfect package companion for me the product Grown Alchemist has me at hello!
Sentimental gifts with a story to tell and a reminder of those who gave are everything. A scent and jewellery strong winners in this category with the reminder of you when they wear them. Try an exclusive scent or even better if you know previous favourites stick to that family. Bottega Veneta Knot is beautiful as is Balmain, Narciso and Viktor & Rolf. A friend asked me a few days ago where she can buy fine jewellery for gifts and my answer swiftly was – Louise Jean | Sarah & Sebastian | Petite Grand (I die over this palm cuff)| Estelle Deve and like I say 'buy big and less often' so go all out with statement pieces like a Balenciaga bow cuff.  Can not go wrong.
Other notables are marble slabs and trays , these cool skull bookends and a lot of desk essentials from Typo, The best ever coasters and platters by RabLabs and Posters for home from Playtype, The Blacklist store and Etsy. [/twocol_one] [twocol_one_last]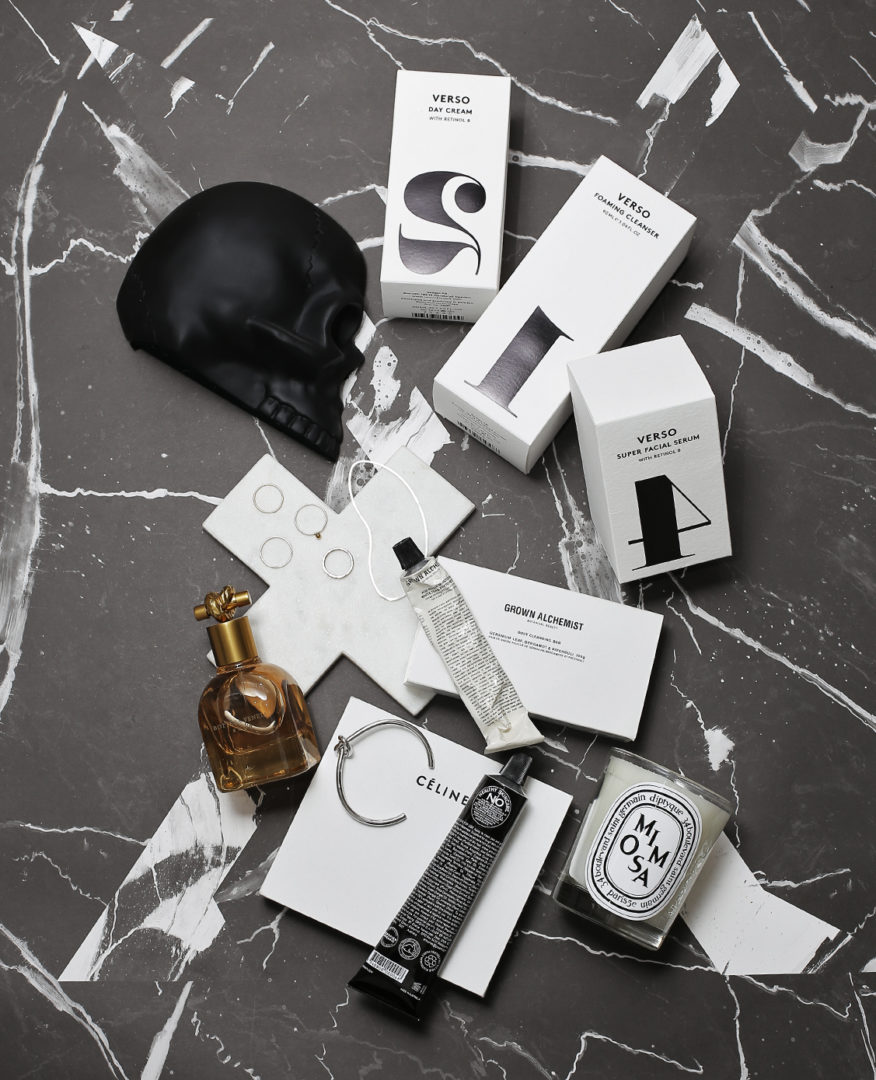 [/twocol_one_last]
[twocol_one]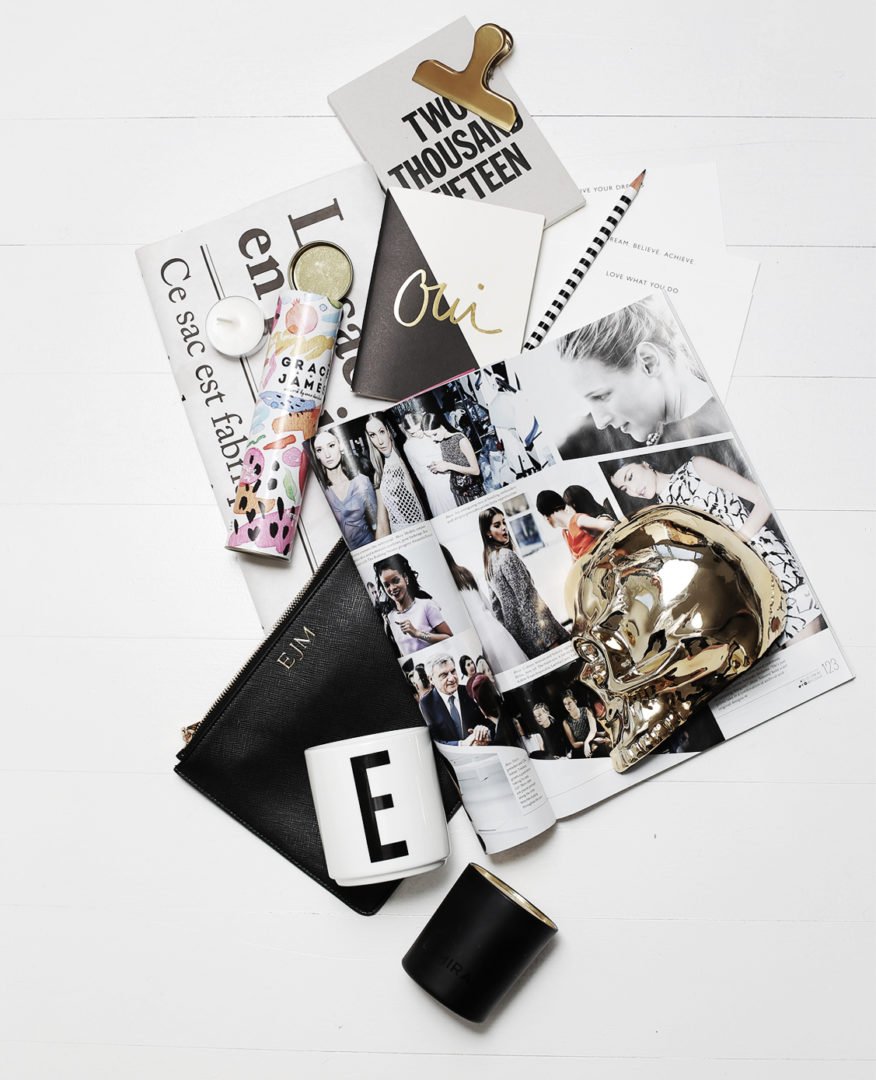 [/twocol_one] [twocol_one_last]Back at home and on the desk a little addiction of mine is notebooks, planners and books. I always have fashion feeding through my interiors so the desk in no exception. OUI notebooks with bits of gold and personalised clutches are no brainers and the monogramming is so thoughtful and worth a pat on the back for the effort. The Daily Edited are a great stop as well as Mode Collective with the amaze  lunchy's and coin purses.
As we are year ending a year and planning for the next a diary is needed to match the above situation. An Organised Life is one of my faves or get a Scandinavian start to 2015 from a new online store I am in love with called Neutral Instinct with the 'Two Thousand Fifteen' planner.
Of course a desk, bedroom or bathroom are never complete and you can never have too many candles. The lost is long of my scented lovers but I will try and break it down.
Diptyque 'Mimosa' and  the new 34 Boulevard collection
 Tom Dixon 'Ecectic Collection'
 Bombardier Designs with ultimate personalisation
Glasshouse Fragrances with the No.5 Fleurs Musquees with the black fragmented glass a winner
 Grace & James brings perfect candles and creatives together and we always love a boutique brand.
Atelier Lumira You know my feelings on black and gold. Divine!
I could be here all day but you get the hint that candles are good gifts and again props for taking the extra effort to personalise or bag a brand with a little something extra.[/twocol_one_last]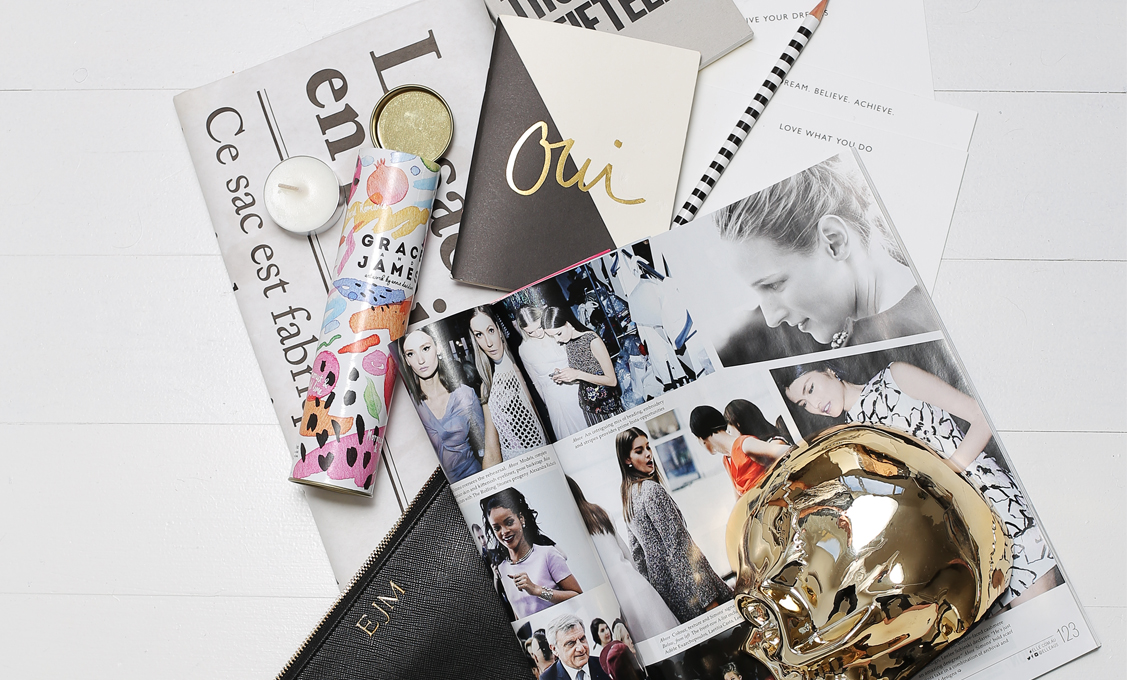 Fashion books for the desk or coffee table are another thing that are meant to be received as gifts but a gift to yourself is always ok too. A book that needs to come every month are the fashion Bibles – Vogue, Harpers and Elle. Mag subscriptions are the gifts that keeps on giving and one of my favourites to receive. Cereal Magazine, Porter Mag and  Rush are ideas to mix up the faves.
Happy gift giving and receiving. Be safe, Be happy.
I am posting and snapping from the beach house from today so thats where you will find me, my happy place.