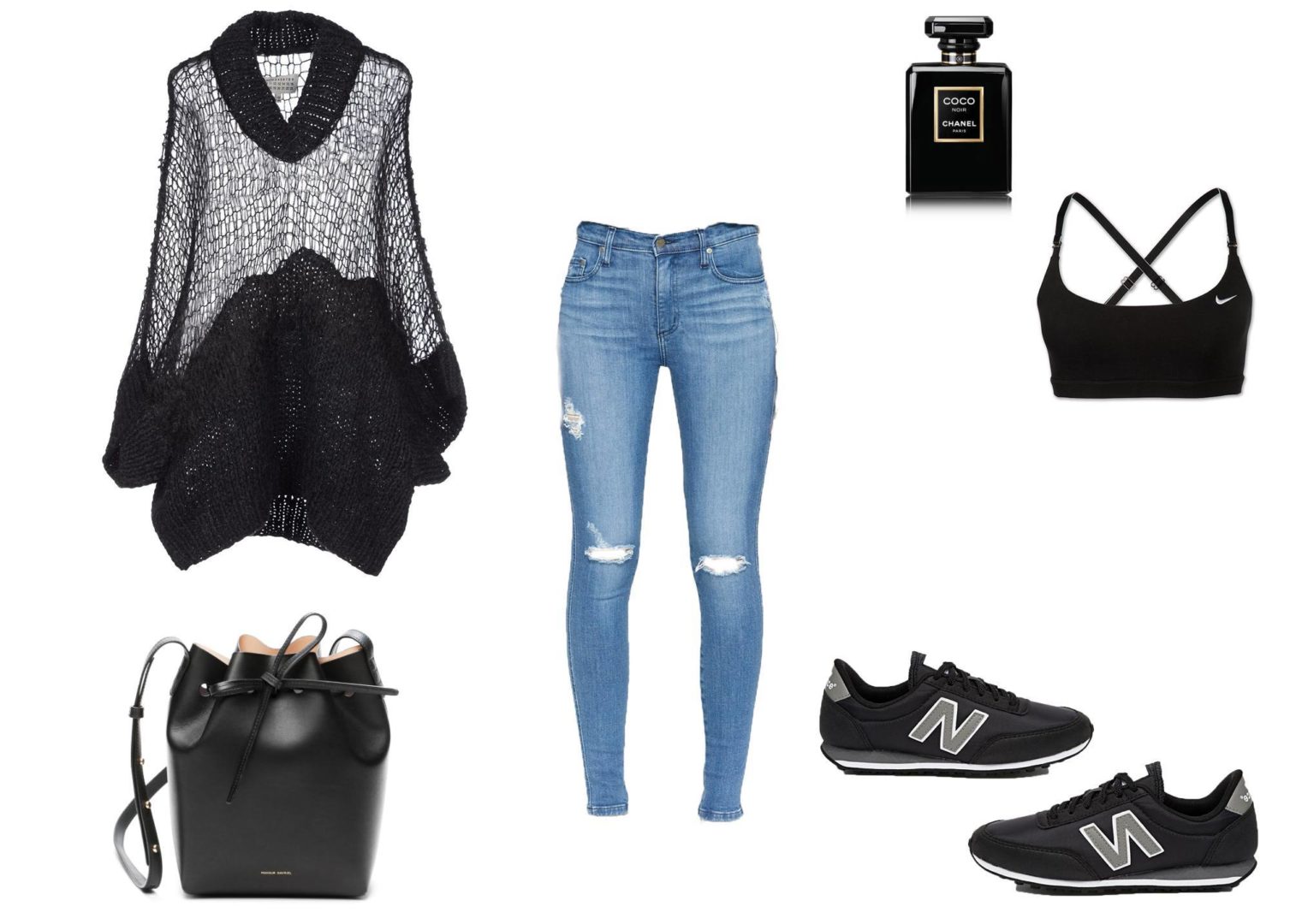 KNIT Maison Margiela 1 | JEANS Nobody | FRAGRANCE Chanel | CROP Nike | TRAINERS New Balance (or these lust haves) | BAG Mansur Gavriel (miss hard to get…. makes me want it so bad)
[twocol_one]If there was something that everyone needs in their wardrobe it is sneakers, yes plural.One for doing what we used to only wear sneakers for which is work out and the days before Instagram they were probably very well worn and maybe not the hottest, newest pair of Nikes. Now we pair them with jeans in a way that leaves Jerry Seinfeld patting himself on the back and get props for starting a trend…almost, minus the stone washed denim. The second need are the casual sneakers that if the 90's and Jerry are all too much for you the grunge and more recently favourited 'Normcore' trend we tone down our denim, blazers, coats and even skirts with a pair of Cons or my go-to Adidas x Stan Smith's. This of course like every thing I own opens the options to styles, brands and alternative shades of grey, white, black and the occasional pop of metallic.
Which ones do you choose? New Balance come in with a bit of a sport flava crossed with street so a nice middle ground with the ripped denim. When they teamed up with Bergdorf's and flashed up on the streets stars like Camille, Tamu and Blair they hit serious fashion credibility. [/twocol_one] [twocol_one_last] Adidas are probably my favourites in the casual-I-am -not-going-to-the-gym-in-jeans look. They have some ace collaborations inc my favourites Stan Smith but not to dismiss the originals either (that I wait patiently for from UO). Converse come in close here also as they both offer plenty of styles, color ways and fits. Girl loves options!
I am one for Investments and buying less and choosing better so if you are in for some serious laid back shoe cred you can make your way over to designer sneaker section. Marant as we all know paved the way with her wedge sneakers and by doing so sparked plenty of 'Inspired' styles on the high street (which she fairly shuns). I personally never bought in just because I think wedges in general are the worst shoes in existence (actually on par with those rubber platform sandal things) and I am more of a traditional girl so when she released these I was lusting. At least with this purchase you know that you can wear them for both a good time and a long time. [/twocol_one_last]
SHOP SNEAKERS
LUSTS – Isabel Marant | Givenchy | Giuseppe Zanotti
MUSTS – Adidas Superstar | Adidas x Stan Smith  & this color way | Adidas Originals & these in Khaki

[show_shopthepost_widget id="771688″]