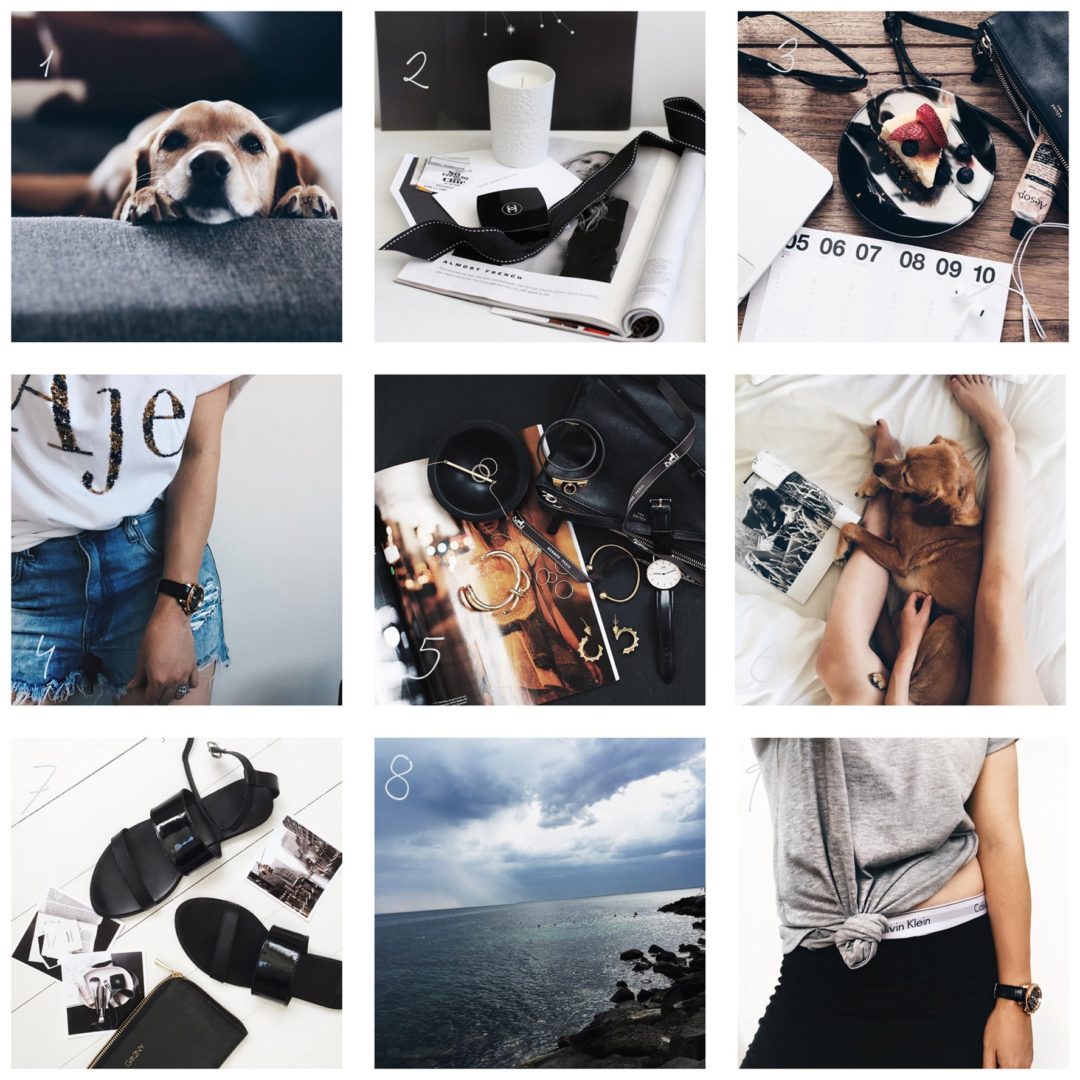 Rounding the week up form the world of instagram. A lot can happen in a week and only a quarter of my big movements make it to the perfectly placed and edited squares on my iPhone. Does it seem sometimes to you that if it didn't get posted on Instagram then it didn't happen? Change that thought, now and you will be a much better person. Word from wise! We need to remember that this beautiful and amazing community is not everything but a window looking in on the highlight reel as lets be honest no one puts up a crappy photo especially with all the chances to edit and perfect with photo botox or 'pho-tox' (if only the Bo in tox was as simple as an insta filter). On Monday we are shooting and filming the edit for my long awaited arrival of ballet flats straight from Italy for my collab with LaBaccarina. Watch this space (and the Insta space).
1. While at the beach house on the Mornington Penninsula , Boo one of two fur babies always by my side and keeping tabs on whats going on.She is a Lab x Cocker Spaniel and the most gentle beautiful dog. Its love.
2. This Sunday is the annual So Frenchy So Chic festival at Werribee Mansion. Who doesn't love France and Caroline de Maigret would totally approve. Tomorrow we am heading to Portsea in the rain in looks like to party with Jeep at the Jeep Grille marquee. Rain never hurt anyone right? Change of pre planned outfit and we are set.
3. Prepping for the year ahead is always tough actually as I am a last minute kind of girl but I have a few new planners and note books (here, here and luxury here) to get me motivated. Bring it on!
4. Aje tee's adding camo bling to a staple-yes please. Juts add denim cut offs and you are summer ready.
5. This post was up earlier in the week and excuse the lack of posts form then on with my crazy last minute shoot prep for Monday I am back on board more often and will a site upgrade to shop your socks off, I promise.
6. Boo tagging me again. BFF.
7.  Best sandals I have found this summer. Birks and Marants aside but talking more 'tight ass chic' but patting myself on the back hard for the leather and the price tag. It can be done!
8. Stormy days captured with the iPhone at our local before the heavens opened up.
9. #inmycalvins for Calvin Klein bringing out my inner tom boy.