[twocol_one]
So you are pregnant….. Congrats! Your waist is disappearing and looking like a basketball, your boobs are double their size and above all none of the shit you like to wear and have hanging in the closet does up anymore. Being pregnant when we are talking purely from a fashion point of view is interesting. Its kind of like when you are getting married and the cake you would have had for a 30th is now twice the price because it will be cut and pretend eaten but a bride and groom.Like entering the bride to be club and the wedding industry is all over you. Maternity is now a new word in the vocab ….. for some anyway. I vowed from the two red lines that I would never wear maternity clothing. I want to make it clear that I am not judging you if you do just for me I want to still have my style and also do not want to spend cash on clothes that I will never touch once I am out of the club and probably want to burn them as they have been on rotation for 6 months! We are re jigging what we already have and know and now is not the time to have a style revamp.
I will not start bombarding you about kids and being a mum on here now just because I am doing this pregnancy wear post but instead of emailing tips back to all of you fab readers and actually checking and responding to the DM on Instagram (which just FYI I am hopeless at so don't hit me up there if you want a timely response)  I thought I could just pump it all out here at once.
So I am going to let you know how it rolls for me. I know everyone is different and you just need to deal with whats going on for you and dress to make yourself feel good. If you retain fluid like your body thinks there is a drought don't be pulling out your triple strap high heels to make your feet resemble a christmas ham or if one minute you are on team Moss no bra club and the next your filling out cups like nobodies business maybe leave the deep V's folded until you are done or you have a free boob job so embrace the boobs you never had.
[/twocol_one] [twocol_one_last]
I am lucky (thanks mum) in the fact that if I don't get up at 2am and eat toasted sandwiches and keep things pretty much what they were before and the body doesn't transform into a blob thus having plenty of options to get me through the 6 months (I am aware you are pregnant for 38+ weeks but the first 3 months don't count in clothes world you just look a little bit 'extra'). Again I know I am lucky to not blow out as I know some friends that even if they ate only celery at the sniff of a hormone they blow out. Even if you do don't reach for that MuMu just yet.
For me : My arms and legs do not in fact look like they grow babies in them so I get the bump and some boob and I work around that situation. My blazers, jackets and basically anything that has an open front is a goer. The perfect way to keep these pieces on rotation are to invest in some tshirts in a few sizes bigger than you wear and in the longer line variety. You can still do the front tuck into the jeans to give some shape so you don't look sloppy. When I want too step it up I have been wearing my Ellery top here and Zimmermann here. Very bump friendly and already a part of my usual attire. You also instantly feel good and feel like yourself if you are still kicking around in fab Aussie designers.
*I make an important note that when you are wearing Spanx or a bra and undies that are more on the older side of life, even if people may not know your secret under the clothes you can't hide it from yourself. The band thing that you are meant to wear over your bump I can't have….. get a longer top and get a pair of maternity skinny leg jeans if you must. A sure fire way to feel right in the prego style zone is to don one of these.
Same goes with maternity bra's. Why the hell do they have pregnant models wearing these? We have no need to be flicking the clip during pregnancy to reveal the scary situation under there and a normal bra (albeit in a few sizes bigger) is going to do the same job on the boobs now you are pregnant. These are for after and a whole other situation.
[/twocol_one_last]
BABY BAG – Same goes for the infamous baby bag when you are a mum. I do shudder a little thinking that a Louis Vuitton Neverfull would in fact be very full of milk bottles and whatever else you need to take with you….. or you think you need to take with you.I never know what the hell is packed inside these busting baby bags… Am I totally missing something?  I just keep the same tote I was using before and when I walked into hospital and get a pram bag with a change mat inc and that is more of a pram accessory rather than your own. You can then use your cross body bag for your stuff and have the pram bag sorted. Otherwise a tote with pouches etc inside will keep you together.
PRAM – With the bag to match and a change mat too I have gone with the ever fabulous Joolz for my pram of choice this time around. As the pram will be the newest accessory on days out it and lets be honest around the home at all times so basically a piece of furniture, it makes sense that a girl has seemingly unlimited options for colours, styles and fabrics when fitting the pram into the life. Naturally I went black but have chosen the Tailor collection to pimp it out with some Tan leather handles and grey marl lining. More on this over socials when I have a baby to out in it!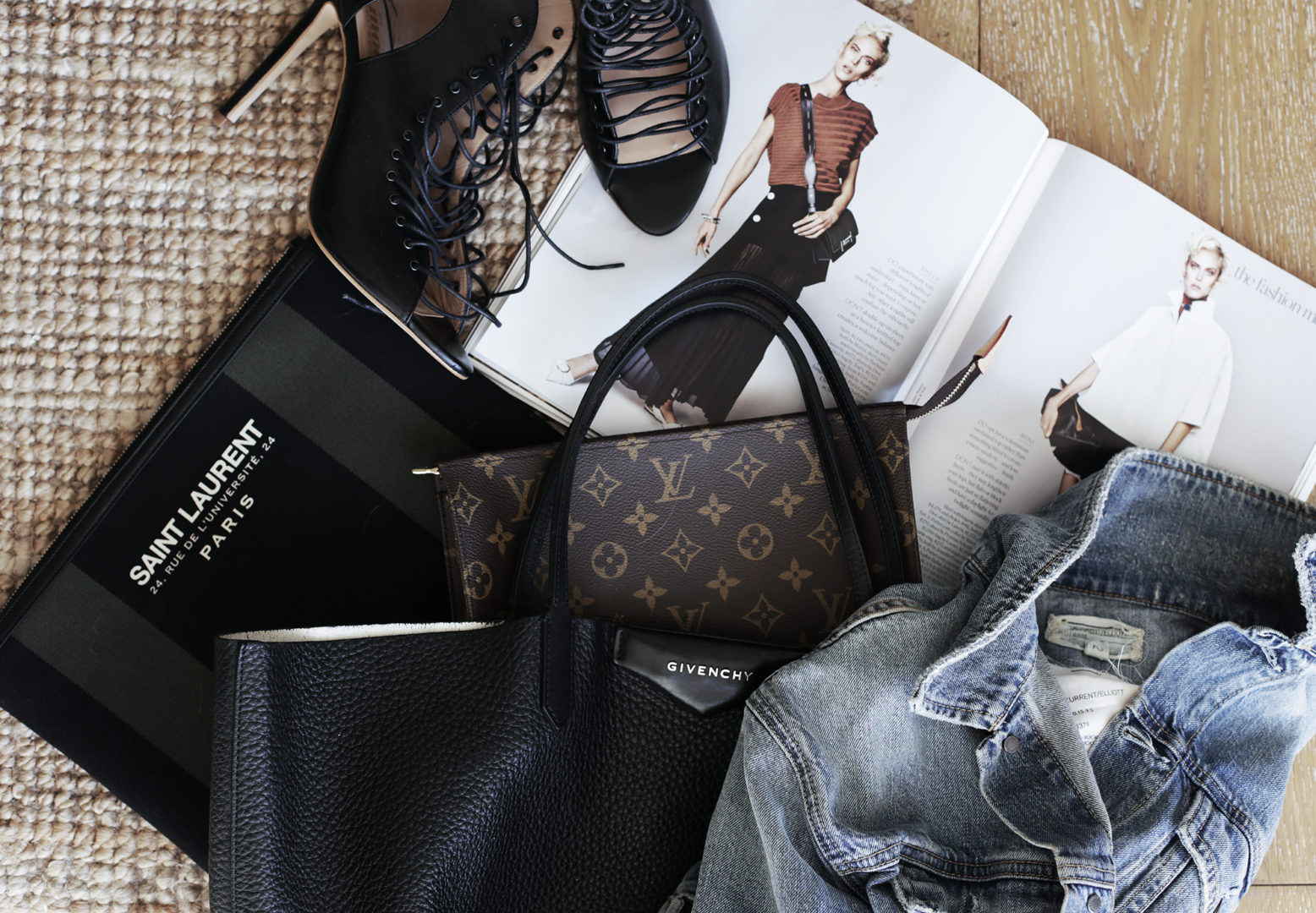 Must Have
*A Black Blazer
*Denim Jacket
*Black stretch midi slip dress and skirt
*White, grey and black tee's upsized and with length
*Maternity denim (black and/or blue denim) I go these or Jbrands because my own get me to about 6 months with the help of a hair tie and then we just have to have some side panel action for the last 3. The only item I buy from the maternity category.
*A few free flowing tops which you most likely already have by Zimmermann, Ellery, Bassike.
*Accessories. Bags, shoes, jewellery and neck ties/scarves are your best friends.
Basically we are looking for stretch midi dresses and fabrics with stretch in them and I would upsize from your norm for some forgiveness in ass areas and more room obviously to get the bump in. Longer line basic tees, oversized shirts and skirts with stretch like pencil skirts and midi length skirts with stretch waists. (You need this from Bassike as I lived in it). I always go the midi personally as I think it adds an instant chic look and the bottom of your legs are usually the best parts so let them shine!
I also recommend a black stretch slip dress too. I got this one but Bassike (again) and many others are around.
GO TO STORES
Witchery – They are all about different sized women with a size 12 being a good size 12 so you have room to get your bump/s in there. Try this, this and this. Don't worry about the seem lines in dresses. if they are stretch fabrication or a knit they are fair game. I think this is one of the big things with maternity clothing that I can deal with (see here and you will get my drift) Makes the boobs look huge, makes the bump look huge and I doubt unless you are 12 you are wearing a babydoll style dress when you are not pregnant so don't start now.
Asos – Plenty of maternity options in the maternity section that are variations of the non maternity style so the Ridley denim and plenty of stretch black dresses etc. I shop Asos a bit but not in the maternity category as there are plenty of stretch options, Tees, oversized shirts etc and all cheap so they get you by and you can wear the shit out of them as basics and not feel too bad when you never want to touch them again post pregnancy. Same deal with Topshop. You know what you need.
Bassike – If there was one brand to shop from its here. Jersey in all its glory with basics to mix through with all of the blazers, leather jackets and accessories that still fit you. Best part is the quality is there so investing in the longer tee's even if they are mens which I personally get to make sure I have length as I am tall so they serve you beyond pregnancy.
.
  LOOK ONE
.
LEATHER JACKET Acne | TOTE Givenchy  | NECK WRAP Vanessa Mooney |
TIE WAIST DRESS Country Road | SNEAKERS Stan Smith | FLARE SLEEVE DRESS Witchery
Decjuba, French Connection, Sportsgirl,Cotton on, Seed have all got knit stretch dresses this season. Anything that you can stretch is good.
.
LOOK TWO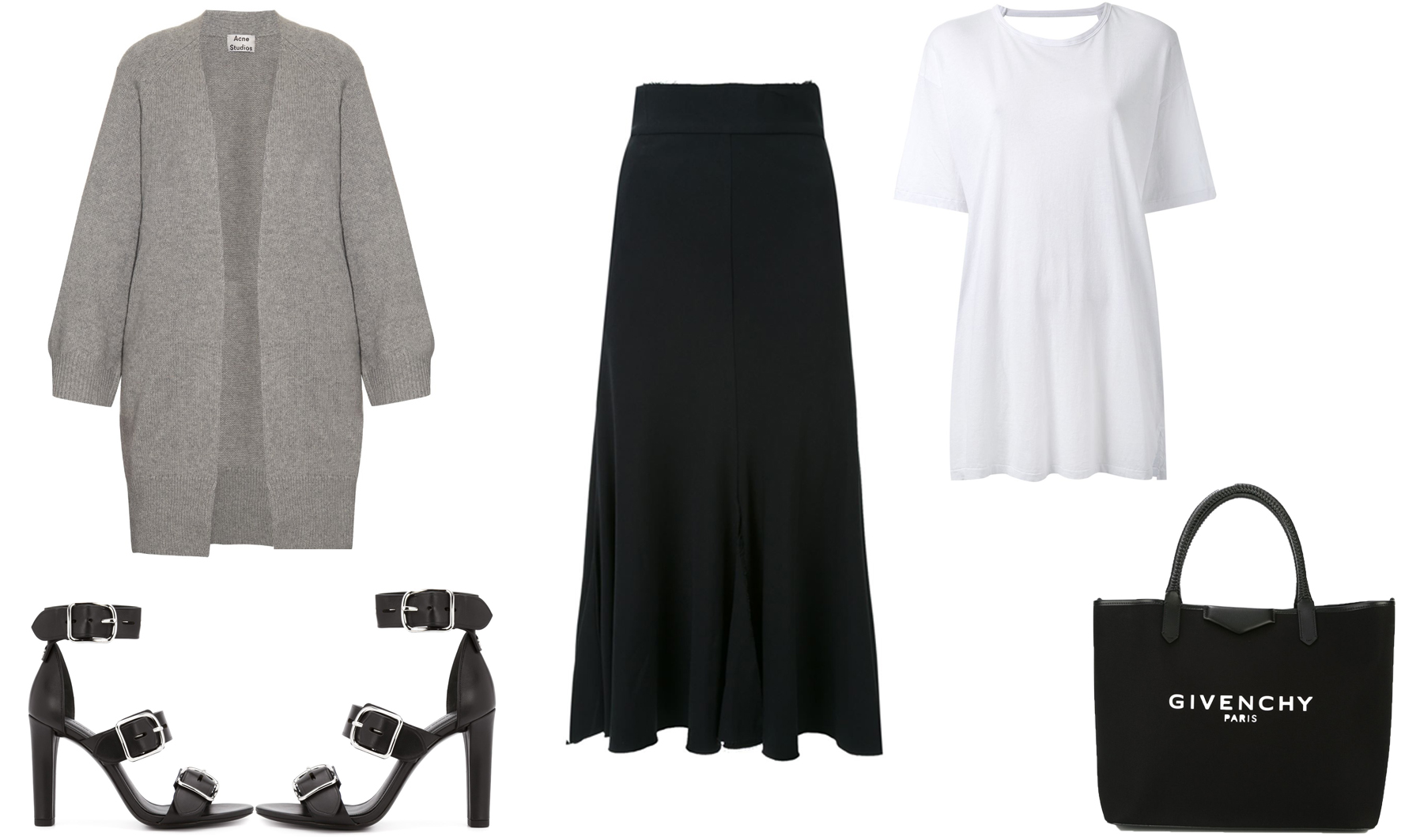 TEE Bassike |  HEELS Alexander Wang | CARDIGAN Acne Studios | SKIRT Bassike | TOTE Givenchy
.
LOOK THREE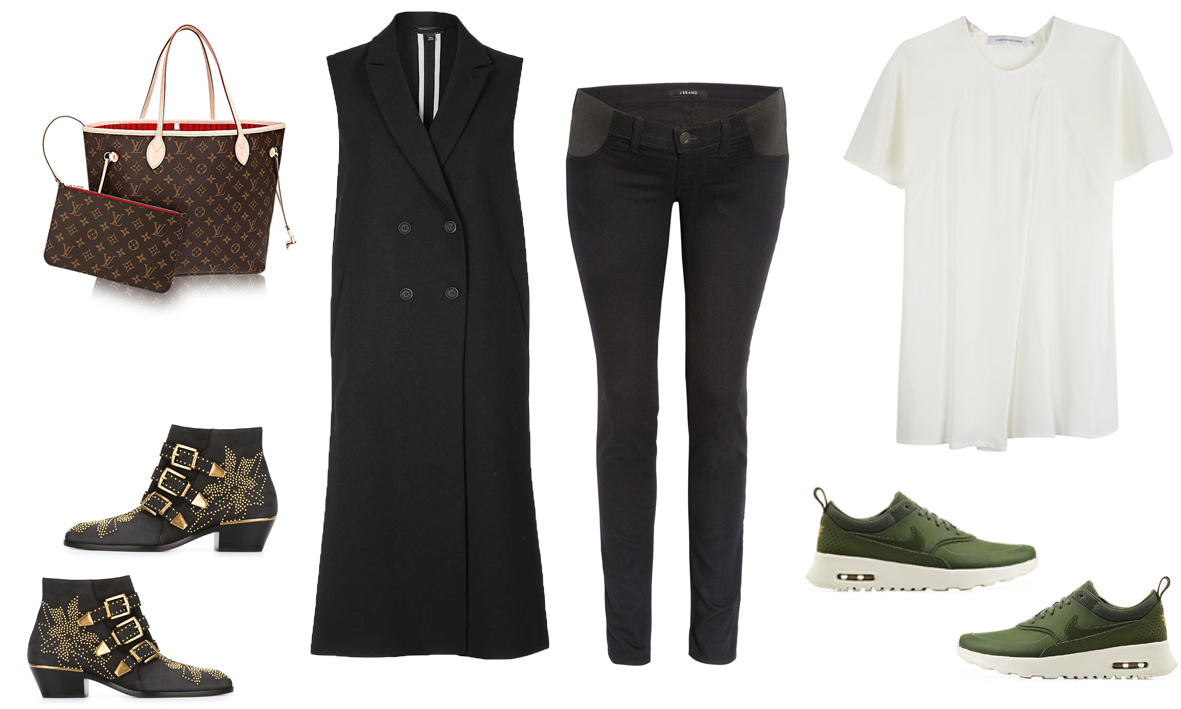 COAT Topshop | RUNNERS Nike | BOOTS Chloe | BAG LV | DRAPE TEE Christopher Esber |
JEANS JBrand
.
LOOK FOUR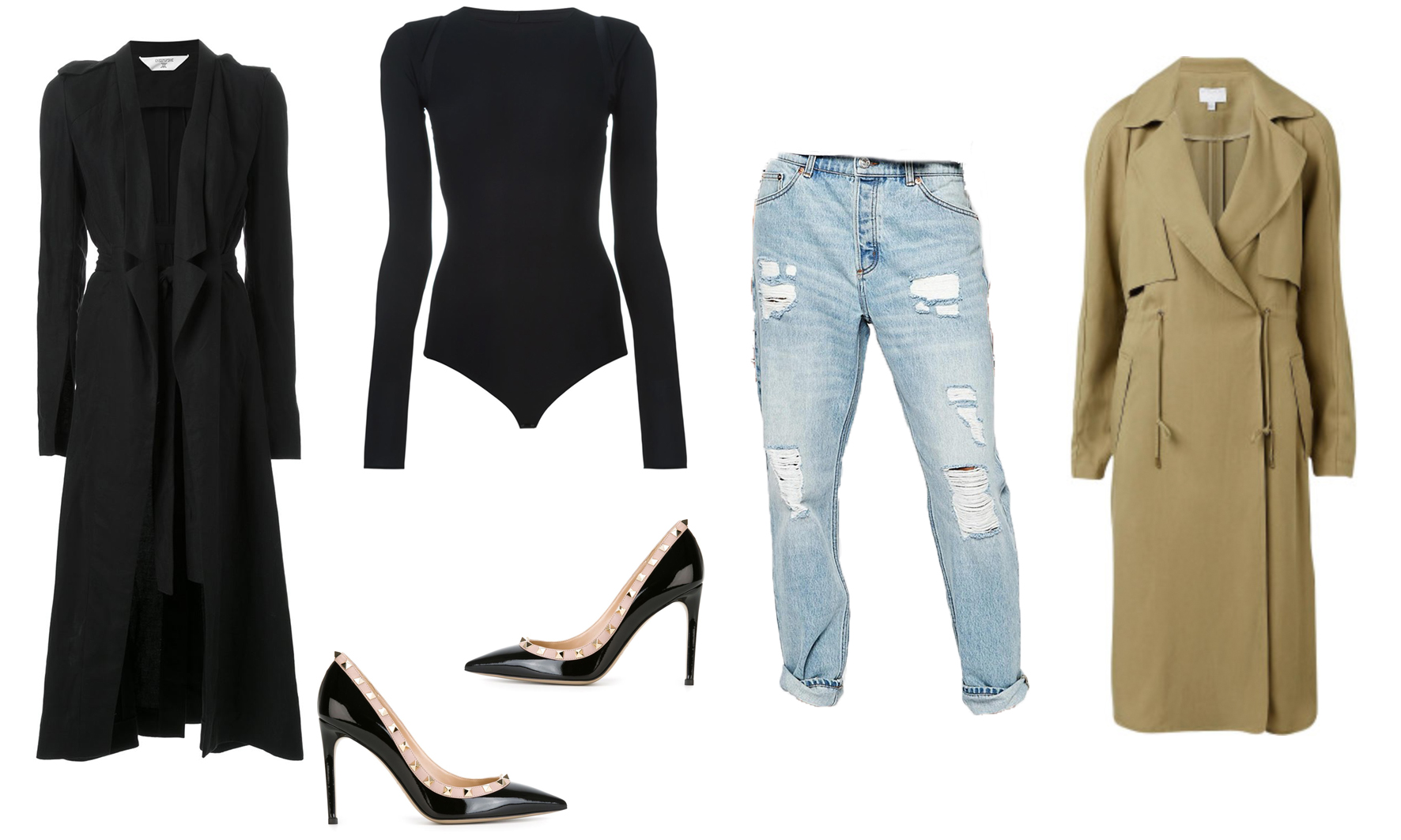 BODYSUIT Maison Margiela | JEANS Asos | TRENCH Witchery | JACKET Kitx |
SHOES Valentino Garavani
Boyfriend denim can work especially if you are petite and a starter size 8 as you can upsize for more waist size and then do the hair tie button trick for later.
.
I could be here all week giving you outfit ideas but have to give birth soon! Continue to follow fashion bloggers or whoever you get style and trend inspo from and everything works around what you got going on. Just fill in the mid section with some stretch basics of tees or even oversized shirts and tuck in.
Enjoy being pregnant and as much as you would love your old body back its a great time to just feel fab and not have body hang ups. Yes its easier to dress without the bump but there is a baby in there and you are a complete superstar to be about to be a mum wether it be the first time or your third and there is a hell of a lot more to life to being pretty and looking good in clothes. Rock it, enjoy it and don't be afraid to still get your stylish threads on.