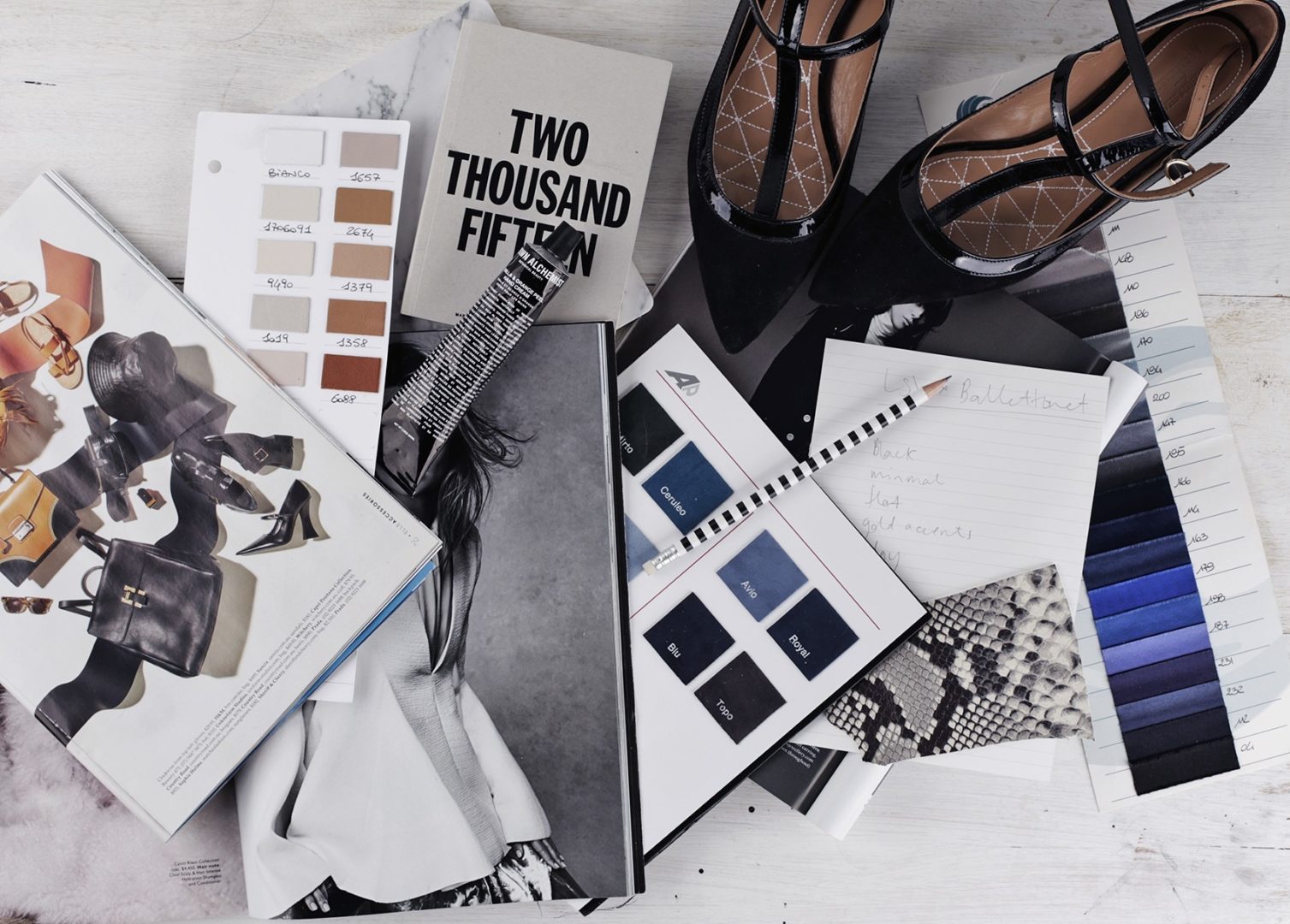 [twocol_one]It's not everyday you design a range of shoes right? How do you it? where do you start? Well as a woman I of course love a good shoe, maybe a generalisation but I argue with all of our choices and amazement in shoes how could you not be. We all have to wear shoes right? A heel is a given in any wardrobe and the most simple styles still manage to be fabulous and sexy. When I am not in heels I am in my Cons, Nikes, Stan Smiths and on the more casual side of life. When I was approached by the team at Ballettonet to design a range of ballet flats I of course accepted the opportunity but had some serious work ahead of me to come up with a range of flat shoes that would in fact fill a void in my own shoe life with the in between a heel and a casual sneaker vibe – The dressy Flat.
It all started and ended in Italy with the La Baccarina makers sending swatches, samples and can and can't do on ideas put on the table. The distance made for longer time lines but I would take it for the hand made Italian leather that were going to be the essence of the collection. Quality over quantity. A boutique collection of 7 in limited numbers.
In the world of fashion we are all making our own way around, picking out the sections we like and defining a certain style that you are most drawn too. [/twocol_one] [twocol_one_last]With all of the outlets we have to explore it and the volume of options it proved quite challenging to drown out the noise and design something that reflected styles I already loved and be 'on trend' whilst being original at the same time. I decided early on that they were going to be simple with the focus on the craftsmanship and materials rather than trying to develop something outside the box just to be innovative. At the end of the day I wanted everyone to be able to wear them in style and be worked into their already classic and simple wardrobes.
The line up – made mostly of points needed plenty of black, texture and of course animal print as there in no where better to have some animal print than in your accessories. Quilted inners with gold details. All seemingly easy decisions – not really and especially when there are a hundred others to make to get you to the end game.Thinking about shoes all the time, researching and making the perfect pair from of one of the best Italian shoes manufacturers – Its a tough job but someone had to it! It was challenging and I am so lucky to have had the opportunity to do so. I hope you loved them as much as I do.
On that note if you haven't already got a pair we are having a flash sale until tomorrow night with the code LSSFLASH15 for 15% off the collection. We sold out of Nero multi straps and the Animale (yay!) but the pre order for the final drop is up and ready to roll. [/twocol_one_last]
If you missed the collection launch and the amazing Video you can reflect here.
Shop the Collection at Ballettonet and don't forget the LSSFLASH15 code. Happy Shopping. x