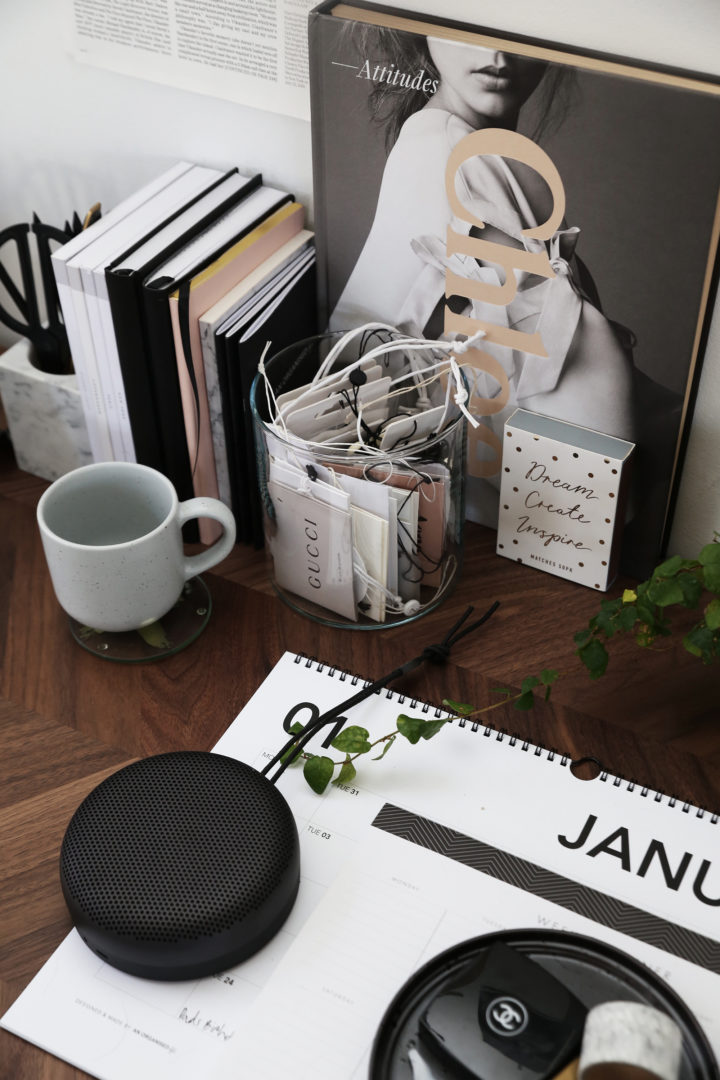 [twocol_one]
[/twocol_one] [twocol_one_last]I have this thing with desks…. and magazines and buying books and also linen bedding – the list could go on but I will start with these confessions for now. So a new year called for a new desk and by new desk I also mean new area to style and with my desk being in our dining area its gotta look the goods. With my restyling and mini reno the past year it has been a bit of trial and error with where I want things and what will go in the spaces. Finding walls to allocate to shelving and the room to have the chairs I keep buying(confession number…..). Things get moved around and things get put aside but when we do finally renovate I will have plenty of space and my addictions will run free.
So, desk loving. I have a black and white top that I have rotated over the years on different legs but I feel in this I found my soul mate. A lover of French interiors and the floors I want but can't have so I get it on a surface. I shop for Milla in the boys sect, I put mags inspo on walls and I use kitchen bench tops as desks. Think outside the square sometimes and you find what you didn't know you needed or exactly what you had in mind. This is IKEA from the kitchen on desk frames.
Magazines are life. The creatives that are involved in all of them give me endless inspiration. The photography, the style, the homes I want to live in but not because they are mansions or have marble and gold running through them but because they are styled to make me want that personality in my own. I want my house to be bits from everywhere and those things, like this desk top that comes along and just makes the space right. The vase of swing tags and I guess a journey of my style and I guess evidence of investment may stay here sitting pretty or awaiting a purpose. They are not to be a brand whore or show off but most all of my big purchases/investments were from a milestone or that I had wanted to treat myself because I did something awesome so lets get them out there.
My bedroom is next with a wall of inspo and storyboards.
[/twocol_one_last]