With Spring in full force/bloom we enter what I personally think is the best time to be in Melbourne where the city comes alive for the roll out of the Iconic Racing season. I know races are all year round and with 64 official race days in the calendar from an event and fashion perspective we narrow the days down to select our biggest on the social calendar. Don't want to be seen going to an opening of an envelope now do we?! With this busy Spring schedule of course comes the new wardrobe and when races are involved it forces you to be the classiest mist polished version of yourself if not always but at least throughout the Spring. We ditch denim and crops, messy top knots, mini dresses and vow that we shall practise and perfect the faux tan! More on the beauty side soon.
For the Carnival I am contributing for the number one racing destination and hub and giving you tips and sharing the best fashion finds to have you covered. We will cover fashion, beauty and have your heads covered too.
Lets kick off our racing lives with the Caulfield Carnival. Caulfield Guineas Day is a nice opener to the calendar with a slightly more relaxed feel than over at Flemington. Caulfield Cup Day is next With David Jones as the major sponsor and Chadstone Fashion Stakes running there is plenty of style at the track. The campaign for the Caulfield Carnival is 'Passion wears many colours' so take a risk and step out from the norm and wear color or a print. Guineas Day is more open to a black and white palette but get into the theme and don some other tones if you don't usually do so.
Moonee Valley holds the Cox Plate which is actually a really fun and relaxed day to gear up for the rest of the Spring. We have been with groups of friends and sat on the lawns and there is a little more room to move around and get involved in the festivities if you wanted a day out with friends.
We sometimes forget about the races that are happening throughout the country racing schedule and they should not be passed over. The perfect days for families or again groups of friends that want to be involved in all that Racing Victoria has to offer on a more casual vibe. Flats and midi block heel sandals , maxi dresses, floral headwear. Working off a more Polo esq and garden party style to embrace a dressed up casual. A day out in the amazing weather with friends and family is something you cant knock back.
No matter which races you attend I would always refer to our lets say 'Most polished version of you rule book' which is as follows:
*For all race days we will outline the absolute DO NOT to ensure you are race fit. No to0 – Midrif showing, denim, sneakers and thongs, head free Millinary, very short skirt/dress lengths, Sequins and nightclub esq fashion. Think day wedding. Be classy and chic.
*Create an entire outfit from tip to toe. Don't bring down a great dress without an equally stunning head piece or forget to brush your hair and paint your toes. This doesnt mean you need a giant peacock on your head just something that compliments the outfit styling. As Caulfield is a little more relaxed with the days traditional rules anything goes as far as color so choose what you love.
*With the above I say – Be you. If you are more Cara Delvine than Blake Lively then embrace your style. I sway to more of the edgy tomboy style over the more glam girly flavour so a blazer and midi skirt combo with a gold leaf headband would work. If you love florals then rock them. You will find shopping easier if you go with what you love and then make it race appropriate.
*Embrace the race. Always have Millinary of some sort on our head. Again if you are more subtle go a detailed headband or floral crown or if you love a wide brim hat then run with it. I will be back with a whole post on headwear so watch this space.
CAULFIELD CARNIVAL STYLE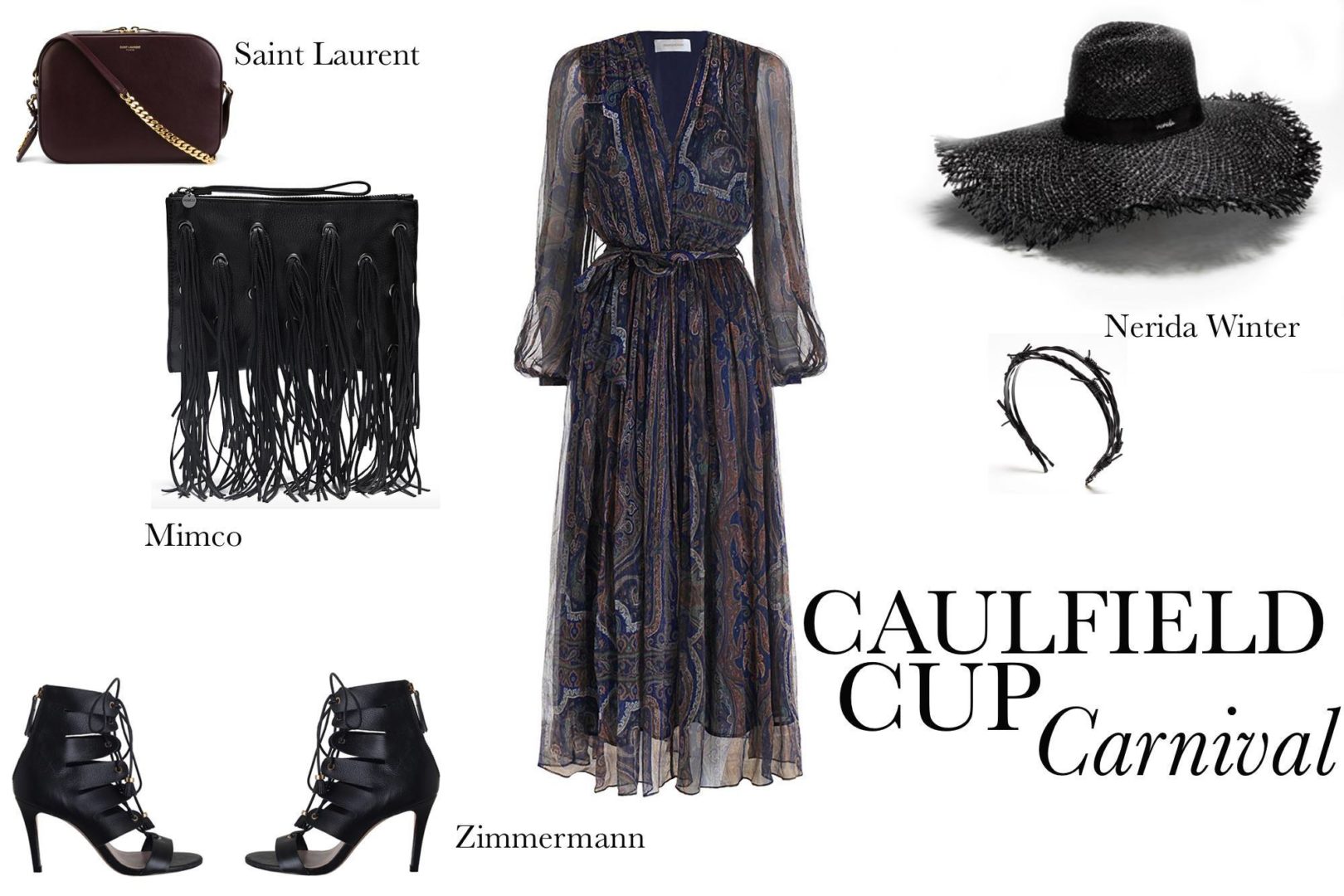 Dress and Shoes  ZIMMERMANN |  HAT and CROWN Nerida Winter | BAG Saint Laurent, Mimco
DESIGNER COLLECTION TO SHOP
Manning Cartell,Dion Lee,Josh Goot, Bianca Spender, Alice McCall, Ginger & Smart, Bec & Bridge
COUNTRY RACING
Sandals ALAIS MAE| Bag JEROME DREYFUSS | Hat Maison Michel | DRESSES Lover