Spring is here , finally and with that we come out of hiding and start getting out and about and getting involved in this amazing time in our perfect City. Following the first guide and opening the racing calendar here we move along to the amazing week down at Flemington for The Melbourne Cup. This year I am a part of the number one online destination for all things Spring racing  www.racing.com to cover fashion, headwear and beauty to have you ready for Spring.
As avid racegoers over many years Nick and I have been very lucky to have attended every year and most years if not all but 3 of the days. Very keen obviously and Nick loving his horse racing (I have over the years picked up a thing or two) and me not being able to resist a great day out and any excuse to frock up.
So The Melbourne Cup Carnival. What do we wear on the days? Are hats a must? How do I keep my facing the same as when I took my selfie in the car on the way here?  Four main days at Flemington so lets sort you out with how the days are meant to look and how to make you as polished as Princess Mary.
My number one rule for the season is listen to the rules and use them as your guide to getting it right when heading to the track. It does get tricky I admit when pulling the complete look together to ace it like the ambassadors and regular race girls but the best starting point is checking the days rules along with a few of my own and you will ready to roll/race.
Im going to lay them out plain and simple,  firstly the things to note and remember when choosing the outfit to be noted in the back of your mind no matter which day you are attending.
ITS A DAYTIME EVENT – Think of day time wedding when you get your glam on. We want to be polished and classy. The daylight never lies so the tan overload will be as evident as Kim Kardashians botox and the exceeding amounts of bronzer and highlighter will have you shining like a disco ball. Take it back a notch. For the outfit the same applies. We are getting dressed up but we are not going to a nightclub or bar. I know that this gets said in every racing 'How to' that I read but if you have this in the back of your mind it will help you rule out certain materials, lengths and embellishments.
STAY CLASSIC – Dress for the occasion and remember that the traditions are our longest standing and even when Jean Shrimpton lashed out and bucked the rules in the 60's she was still wearing a shift dress and a midi heel.
Revel in the opportunity to be almost in a theme. Be you but adapt it to the traditions and expectations. If you like me are more of a edgy, tomboy pretty then accessorise with black leather on Derby, omit the florals on Cup day and bring out your girl boss on Oaks (ladies Day) with a pant suit rather than pastel laces. I will lay this all out in detail below and in the following guides.
RETHINK TRENDS – When you are scrolling through street style images and the latest Porter Magazine to bring fashion to the races have the above guides in mind. Lace is a huge trend this S/S so steer towards a style that does have your underwear practically as outerwear. The humble pencil skirt and crop top look (that I will be happy to see the end of) is another example. A bare midriff will not let you pass go. Trends that are perfect are print silk blouses with this neck tie scarves (Chloe), midi skirts, volume and layered separates. Softer prints and tones of red, emerald and navy replace hot pink and neon.
So lets get to our days and the rules that go with the four main race days and plenty of options to shop your hearts out. We will get to Millinery in the coming weeks so lets get the outfit and accessories on track (sorry) first. The first day , My favourite in the fashion stakes is Derby Day.
________________________________________
DERBY DAY
AAMI Victoria Derby Day the first of the raceday's for the Flemington Carnival. The traditional fashion guide is everything Black and White. Personally I like a monochrome outfit in choosing either back or white and then adding the opposing tone through the headwear or accessories. A belted Sleeveless jacket paired with a skirt with volume brings structure and a more exaggerated silhouette.
As I dress in this zone almost everyday the use of textures and patterns within the monochrome adds interest and the play on these shapes and layers/accessories will take it from plain to being race ready.
 JACKET seed | SHOES Francesco Russo | SKIRT Acler @ Myer | ROSE HEADPIECE Nerida Winter | LEATHER BOW HEADPICE The Eternal Headonist
SHOP DERBY DAY
[show_shopthepost_widget id="1080462″]
___________________________________________________
MELBOUNRE CUP DAY
Arguable the best and most iconic day on Melbourne's social calendar the famous Emirates Melbourne Cup Day. Melbournians flock to the track and 'the race that stops a nation' has everyone in tow.
A day of celebration and moving from the black and white to some color and prints. If like me you live in a more muted and minimal zone I think there are plenty of ways that we can inject some Melbourne Cup Day flair without having to be too over the top. Of course if you can do it and love a bold print then embrace it. Like any of the days we are following guides but being true to your own personal style as well. A fancy, polished version of your style.
LACE CROWN Nerida Winter | GOLD AND JEWEL CROWN Viktoria Novak | DRESS Self Portrait
SHOES Tony Bianco|CLUTCH Kenzo
SHOP SOME COLOR
[show_shopthepost_widget id="1080510″]
________________________________________
OAKS DAY
More commonly known as Ladies Day and the tag explains it all. Release your inner lady wether it be 'Girl Boss' in a strong structured silhouette and fitted blazer or leaning towards more of a girly girl look with florals and lace. I do love the sea of pastels and softer tones on Oaks day even if you are like me and lean towards a stronger, edgy style you can bring some softness through the color. Think feminine details in the styling and for accessories and headwear keep it simple and either strong with floral details or in the name of the Olsen twins lace veils will do the trick.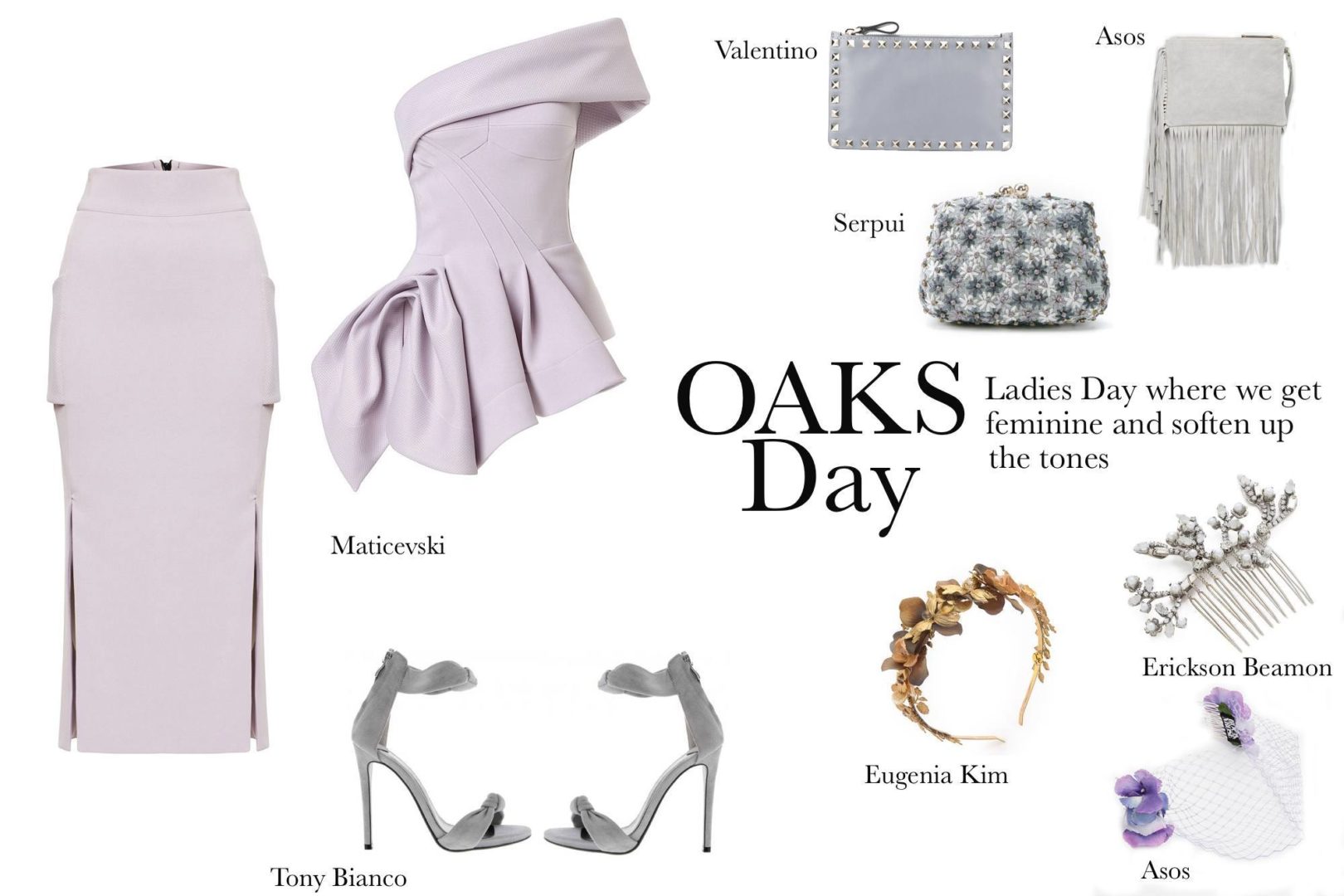 BODICE & SKIRT Maticevski |HEELS Tony Bianco | CLUTCH Valentino | FRINGED BAG Asos | FLORAL CLUTCH Suprui | VEIL Asos | GOLD LEAF BAND Eugenia Kim | COMB Erickson Beamon
SHOP LADIES DAY
[show_shopthepost_widget id="1080556″]
___________________________________________
STAKES DAY
Wrapping up in a more relaxed style yet still polished. Emirates Stakes Day is the true wind down of a massive few months of Racing and a jam packed social calendar. The lawns are less crowded and call for the perfect day for families and groups of friends to have a day at the track. Flats and blocked heels are always welcome especially if you are spending the day on the laws in more picnic mode and if in the Birdcage and corporate situations keep up the style stakes and choose the heels to match an outfit that reflects a more pulled back feel. Flowing midi skirts, Soft silk dresses and prints.
SHOES Schutz | Alias Mae | DRESS Aje | CLUTCHES Charlotte Olympia & Victoria Beckham | MILLINERY Mimco